Fog Resort and Spa Munnar
Wins 
             Luxury Hotel and Spa of the year 
By Luxury Travel Guide Award in Asia and Australasia category
About Fog Munnar
Ever imagined how a blend of Nature and Luxury Resort could create wonder? As we pop into the Western Ghats range of mountains, we feel lighter with the most refreshing air, scenic flora and fauna and the sensual mountains. Just like the heavens and the earth blend in perfect unison. Tourist flock to Munnar for this. In such a journey, The Fog Munnar is the best synonym for hosting. So, Stretch a little from Munnar and you will witness the perfect and a charming tryst, The Fog Munnar Resorts and Spa. Experience a separate world! Nestled among the running hill slopes and the cuddling Fog, The fog Munnar attracts the visitors as it is set aloof from the hustle bustle life. Imagine a visual treat! Unending view of misty mountains through the veil of fog. That's the valley view of The fog Munnar. When it comes to view there is a beautiful and calm Tea plantation view bound with all local flora. Humming romance in serene ambience. That's the privacy, comfort and the real romantic tryst of The fog Munnar. Anyone would love for a misty walk. How would it be if it's a tea plantation? The aroma of tender tea can arise the taste bud and can boost up the energy. That's the patch up The fog Munnar arises!
CEO's Message
I feel honored to invite you all to a world where its filled with fun, hospitality and a rare blend of culture adventure and serenity all together brought to the beautiful western ghat range of mountains. Yes The Fog Munnar.
The idea behind starting the Fog Munnar is the passion which I carried throughout my 24 years of experience in travel and hotel industry in India and abroad. I always loved the hospitality industry and believe that many of the largest companies today have lost the focus on the art of running great hotels and resorts, where I would like to set a benchmark in the hospitality industry by delivering world class products and services which suits well to our clientele through the Fog Munnar.
The Fog Munnar values are an aggressive and productive management style expressed with sensitivity and integrity in all we do. A commitment to the highest professional standards yet conducted in a family atmosphere, and an intense desire to compete and win balanced with respect and understanding for all our counterparts. We are proud to be a truly different hospitality company in the travel and hospitality world. The support which we get for The Fog Munnar gives me great courage to start new ventures in all major destinations in Kerala.
Dr. Jolly Antony
( CEO )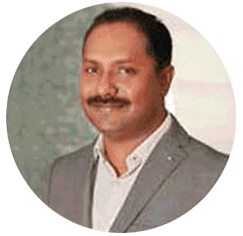 Mr. Shojan Kokkadan.
(MANAGING DIRECTOR)